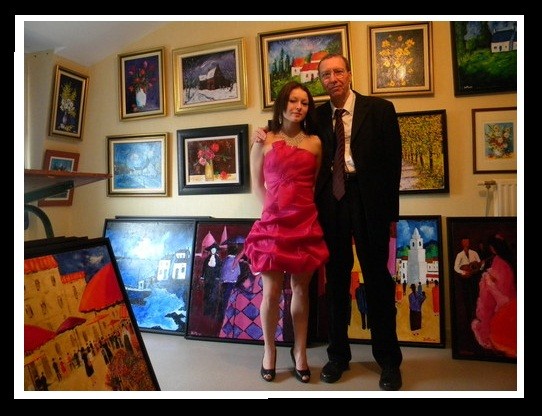 Michel Bethune et Virginie Roselle, Expert artistic
Price "Caran d'ache" in Geneva, Switzerland. Since 1996, trading in the international guide painters "Akoun". Documentation canvas Van Gogh museum in Amsterdam, Holland.

 

Born near Cambrai, 02 January 1947 and despite a painful youth, Michael Bethune has always been very active. Good at sports and drawing, he spent his energy foot racing competitions. Very soon, the practice of athletics shows his taste for effort and difficulty: in 1967 he was vice-champion of France military 5000m and participated thereafter, has many international meetings.

He was also fascinated by the art at age 15, he won first prize for painting "Caran d'ache" in Switzerland. His first job as an industrial designer in a glass-manufactory, was also artistic connotation: he designed and drew large bottles for perfumery. He then worked at the Ministry of Justice and was also a teacher with young dormant school.

 

Since his recent retirement, he is still dedicated athlete and as a judge and coach for youth athletics. He devoted himself, of course, more to painting every day ... it makes life A life which, to a certain period, would be devastated by malware and other "witch hunts", which did not fail to cost him his job, his property and his family came next, inconsolable and tragic death of his young son William, aged 14. Deeply hurt and disillusioned, painting, face adversity in a stressful existence, has become the sport, its last refuge: it is sometimes said "to be a painter, for me, it was an accident of life, c is also what I like to do when so many things are denied to me, it's just, somehow, continue to live! .. "

Michael Bethune painted from models and according to his inspirations and interpretations, with the color straight from the tube, it spreads on the canvas, in a free and expressive gestures. It is both the composer and conductor of his works, in his joys and sorrows: landscapes, seascapes, flowers and characters, whether real, imagined, refined, extended, dreamlike, playful even naive, are all symphonies concertante stigmatizing environments and harsh sometimes sober, but often passionate and colorful: they express their emotions and feelings just to capture the essence of his pictorial universe.

 

For Michael Bethune, the purpose of the work is to interest and satisfy the eyes of those who love his painting : The beauty is not only in things that appear to us, it is also in the eyes of those who look ...
His works are now known through exhibitions in galleries and museums, but also through auctions and private collections in France and Abroad in the form of paintings, prints and postcards.